How to Start Generating Leads with the HubSpot CRM
Your website can be a lead generating machine for you–if set up properly and strategically. Churning out fresh, compelling content on your website is the first step in Inbound Marketing and pulling your target audience to you. Once visitors have come to digest your content, you want them to take the next step and convert to a lead. If your company has purchased HubSpot's Inbound Marketing software then you are well on your way to getting the whole process in place and bringing in quality leads!
If you are just getting started in the HubSpot CRM (Customer Relationship Management) it can be a little confusing as to where to start and how all of the functions tie together. In this post, we'll show you step-by-step instructions for creating landing pages, CTAs (Calls-To-Action), and forms, along with in which order you should create them.
Note: this post assumes that you have HubSpot integrated with your website so that you can add blog posts, and other pages to your site via the software. The below tutorial is using HubSpot's Marketing Hub Professional. There is also a HubSpot free CRM available.
Getting Started with Lead Generation in HubSpot CRM

Step 1: Identify your Strategic Lead Generation Campaign Focus
First things first–you and your team need to narrow your focus and decide which part of your products or services you are promoting for let's say, the upcoming quarter. This in effect, becomes your lead generation campaign.
A campaign includes, but is not limited to:
Topic research
Content plan
Messaging
Emails
Branding and/or graphics
Specific content for each social media channel
Timeline for roll-out
Goals
Reporting
In your topic research you will want to identify the keyword or phrase you want to optimize for, and plan how you will use it in your content.
Now that you have a plan, know what you're promoting, and what you want to get out of it, you're ready to execute.

Step 2: Write an Optimized Blog Post
Here's where your content plan comes into play. You will want to write a long-form (at least 1,200 words, ideally closer to 2,000) blog post that is focused on the topic you identified for your campaign. Additionally, if appropriate, you can add a page to your website that falls under your products or services category, if you didn't previously have one describing this offering. This serve to help with SEO (Search Engine Optimization) and in giving search engines like Google more to crawl and index on your website.
Creating your blog within HubSpot is easy and actually fun with their intuitive editor. Go to the Marketing menu item, Website, then Blog.
You'll hit Create, then Blog Post, and you're given an option for your editor. We recommend the default: Inline Edit Mode. From there it's pretty straightforward and intuitive. Be sure to check out all the tabs in the blog editor: Content, Settings, and Optimize to fill in all necessary fields, and get a checklist on how well optimized your post is for search. Below is an example of what is shown in the checklist. Green = you're good to go, red = consider adjusting.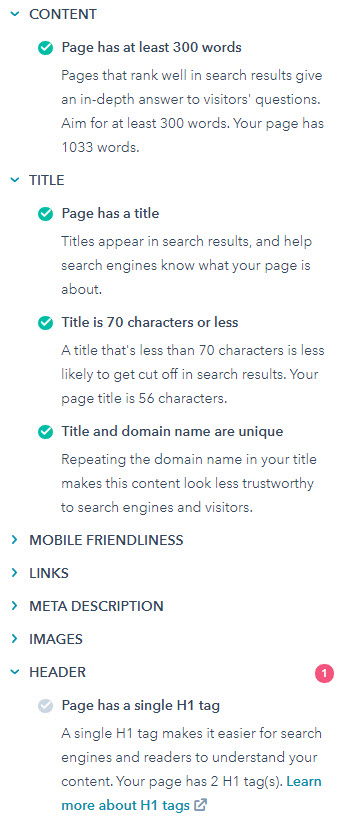 Once you're done, save, don't publish yet, and you'll now need to go create the conversion paths to which your blog post will link.

Step 3: Create Form
Next you'll create the form that visitors will fill out with their information when they're ready to move to the next step on your website. Go to Marketing menu item, Lead Capture, then Forms. After hitting Create Form, you are given two options: Regular Form or Pop-up Form. In this case, you want Regular, but know that you have the option to create Pop-up forms to appear on any pages of your website as your visitors are browsing.
Once you hit Next, you can start with a blank form, or choose form templates already created (which you can still customize). You then hit Start, and the interface is simply dragging and dropping your desired form fields into your form.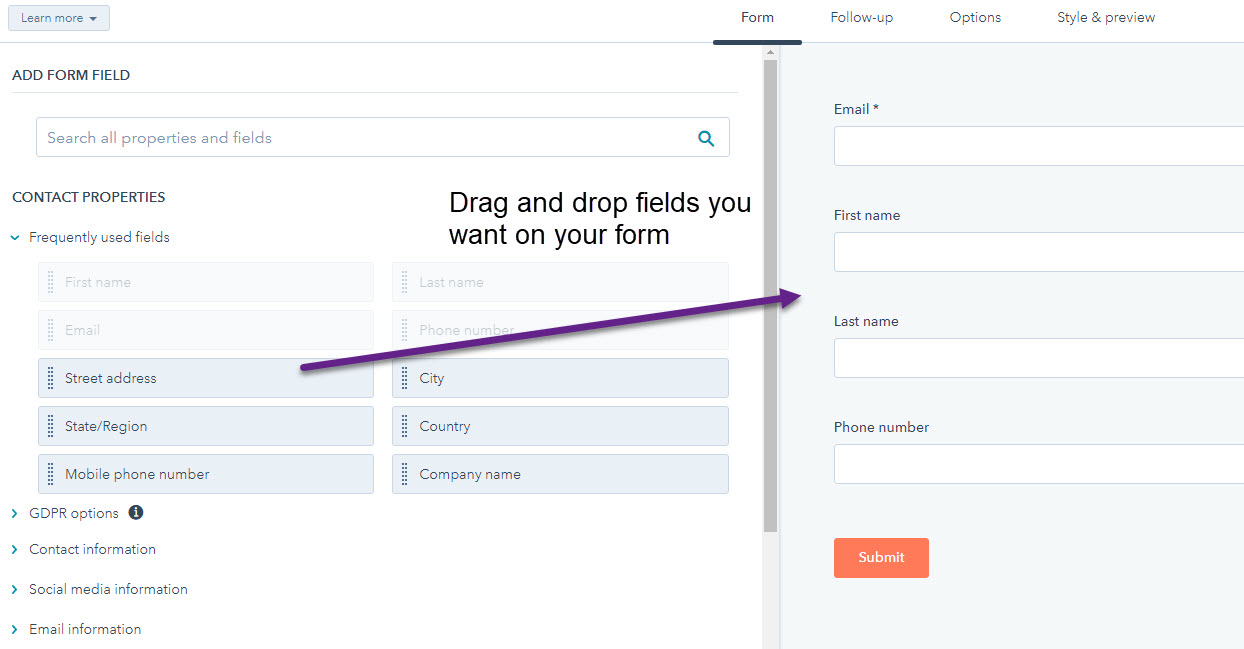 You can customize the following:
The text on the submit button
The page the visitor is sent to after submitting the form, or no page at all, just text appears
To whom form submissions go in your company
Whether the visitor receives an automatic follow-up email
Step 4: Create a Landing Page
Now you're ready to make your unique landing page. This page is specific to your particular campaign and will not show up in your website menu navigation, but only where you link to it from CTAs within your website, or other campaign communications such as social media posts.
Go to Marketing menu item, Website, then Landing Pages. After choosing Create, Landing Page, you will be given an option of templates to use. If your company set up branded templates that match your site, they will be here. Otherwise you can start with standard templates and customize.
You have a lot of room to be creative on landing page, and there are many options for customizing them. HubSpot shows you a layout that follow best practices, and then you have a myriad of options on the left.

Once you get to the form portion, you choose edit, and then find the form you created in the previous step in the drop down and plug it in!
Keep your campaign branding in mind for this landing page and add any specific graphics or imagery to the page. Once you save your landing page, take note of the URL and copy it to your clipboard.
Step 5: Create Call-to-Action Button
This part is simple and quick. Go to Marketing menu item, Lead Capture, then CTAs. Hit the Create CTA button and from there it's three easy steps. You'll choose the text on your button, the color, and the button style. Step two is where you name the button for internal use and add the URL for which it will link to. In this case, that URL is your landing page you just created; paste that in. Step three is to save!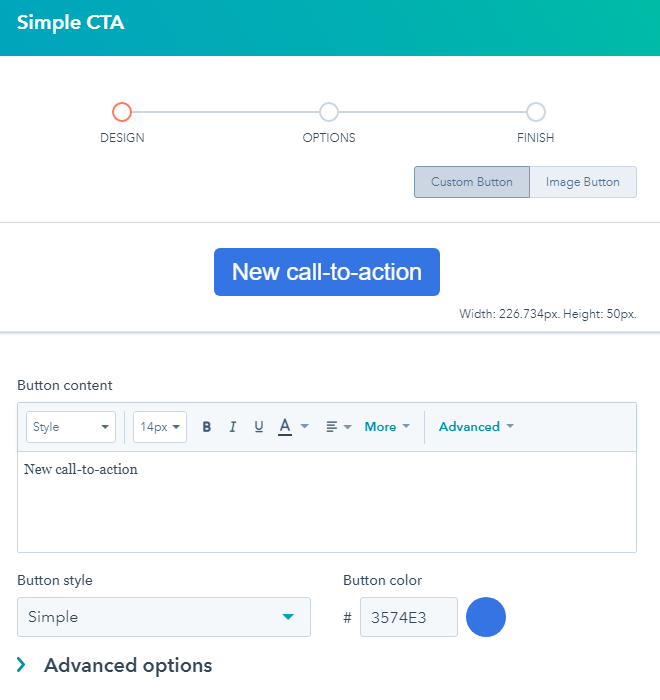 Now go back to your blog post, place your cursor where you want the CTA button to appear, and choose Insert, Call to Action. A menu will come up with all your CTA buttons; choose the one you just made.
It's typical to put a CTA at the end of a blog post, however, recognizing that many people don't read to the end, it's also appropriate to place in somewhere in the middle of the post as well.
If you also created a new page on your website detailing this new offering, be sure to add your CTA button to that page as well. If that page was not created within HubSpot, but instead directly in your website's CMS, not to worry–you can easily copy the code from any CTA and paste it into the page code on your website.
Additionally, if your campaign includes an email, insert the CTA button into that email.
Use the HubSpot CRM to Track Your Campaign's Success
Once you have finished creating everything, you will want to walk through it all on your website and test it, to ensure all is linking properly, and the desired emails are going through.
Now the fun part: watching the leads roll in (hopefully!). Remember those campaign goals you set? Well I bet your boss or other stakeholders in the company will want to see the results of your campaign and if you met your goals. Set up some reports in your dashboard that will help you easily track the metrics that are important.
Here are a few reports that could be useful to add to your dashboard:
Top Landing Pages
Top Blog Posts
Top Blog Posts by CTA Click-through Rate
Email Totals
And in the social media section of the HubSpot CRM you can find detailed metrics on the social posts you put out around your campaign (if you sent them from within HubSpot).
Become a Lead Generation SuperStar
Now that you know the process to go through for creating a lead generation campaign, you can start running several different campaigns at once if you like. You can test out different offers, angles, messaging (called A-B Testing) to see which ones are resonating the most, and thus converting more visitors to leads. The HubSpot CRM makes this easy to do and report on, and will really make you look good to those company stakeholders 😊